Crystal Larsen Boudoir
Clarksville, TN's Premier Boudoir Studio
Every once in a while blow your own damn mind
What Is Boudoir?
If you are here and you don't really know what boudoir is all you really need to know is it will change your life! I'm not lying! Keep Reading!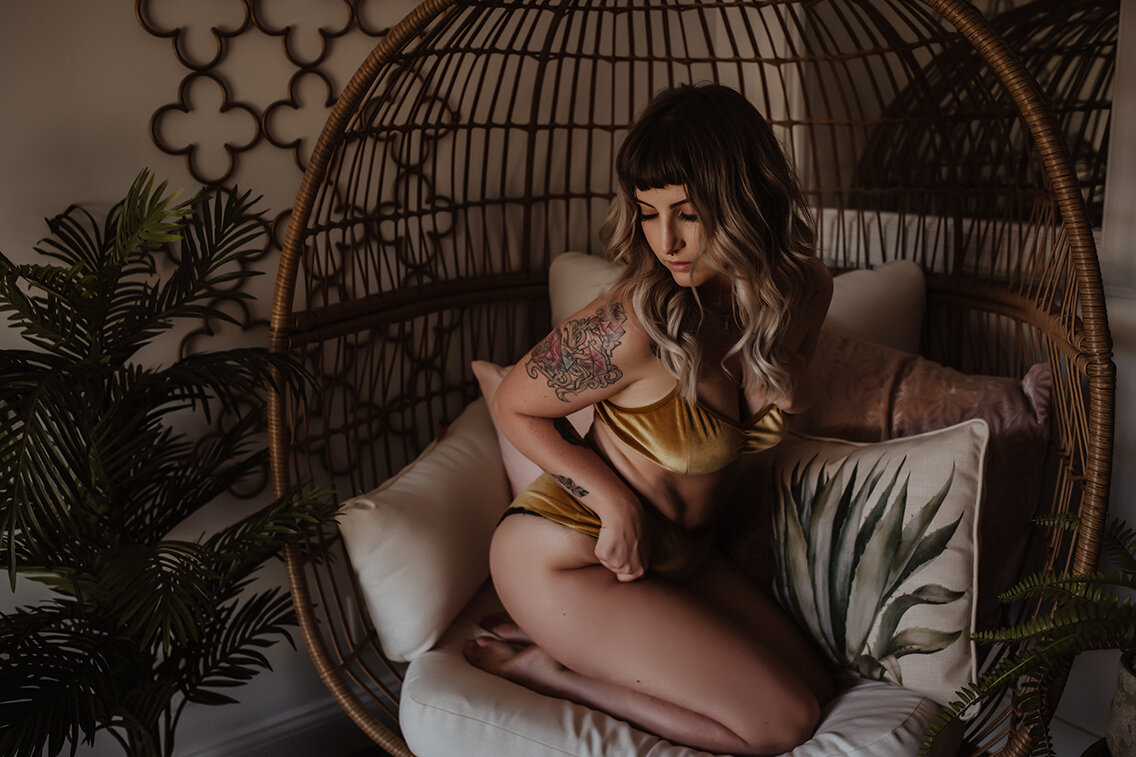 * FOR ALL WOMEN - No experience necessary
* FOR ALL AGES - It is never too late to love yourself
* FOR ALL SIZES - Sexy comes in every shape and size
* FOR SELF LOVE - You deserve to love yourself
* FOR YOU! - Boudoir is an amazing gift to YOURSELF!
Every Single One of our Self Love Experiences Include:
Professional Hair and Makeup
The women on our site all have one thing in common: they are every day women! The images on this site are of real clients who have zero modeling experience. There is a common misconception that you need to be a model to have a boudoir session. That can't be farther from the truth. This is your chance to be your own supermodel for the day! Just check out these women and their transformations from every day to slay.
I'm not a model. Can I still do this?
ABSOLUTELY! In fact we prefer you that way! The boudoir experience is about taking the every day woman and making her feel like the most beautiful supermodel that ever lived. We will coach you 100% from the top of your head to the tips of your toes, including expression. You do not need to know how to pose a thing!

I don't know what to wear. What should I bring?
Upon booking we will send out a complete lingerie and shopping guide. You may even already own things in your own closet that you would never have thought of using. Things like tank tops, teeshirts and leather jackets- The possibilities are endless! We also have a complete client closet in studio ranging in sizes form XS-3X so we always have you covered.

Will my images be posted PUBLICLY?
We never post ANYONE'S photos without permission. If you do not want your photos posted online they will never be shown. Your privacy is extremely important to us!

Where are you located?
We have a beautiful 800 sq ft studio located in Clarksville, TN - about 40 minutes north of Nashville!

What do I do with my boudoir images?
Display them! These images are meant to be seen. We specialize in custom luxury albums that you will treasure for a life time. Prints, wall arts and specialty gifts are also available.
When should I book?
TODAY! It is never too early to reserve your date on our calendar. We typically book up 8-10 weeks in advance and our turn around time from shoot to product in hands is 6 weeks. The earlier you contact us the better we can ensure you have photos back for any special date you may want them.
My name is Crystal Rose Larsen.
(I was named after my mother's two favorite things because I am her favorite child. True Story. )
I am a Nashville Boudoir photographer and a 33 year old mother of 4. I had my oldest daughter at the ripe old age of 18. Being a teen mom and dealing with so many insecurities that stemmed from it has lead me to be the woman I am with the mission I have; to make ALL women feel confident enough to take on the world!

I started in the industry as a hair and makeup artist in 2008 and quickly fell in love with the transformation part of a photoshoot. Both physical and emotional. When I made the switch to photographer there was no doubt in my mind I wanted to specialize in boudoir and empowerment and that is exactly what I have been doing since 2010.

While we have so much fun during our sessions my favorite part is AFTER the session. When you come back in for your reveal with a glow you didn't have when you first walked in to the studio because you have been riding the confidence high since you left your session. I LOVE to hear all the stories about how you have changed your life since your experience with us. So whether you refound your sexy, got a new job or left an unhappy relationship that could no longer serve you, make sure you come back and tell me!
It's Your Turn!
Ready to feel empowered?
We would love to chat about sharing this amazing experience with you!